Soon-to-be spouses flock to Plattsburgh bridal show
11.01.2017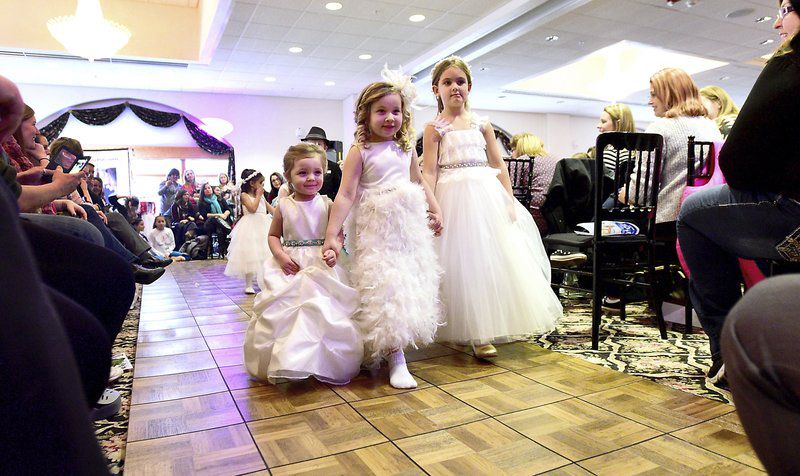 (Photo:white formal dresses)
The models stepped, swaggered and sauntered down the makeshift runway, turning heels and heads.
Some cast a wink as they went by in their tuxedos and gowns. Others, when the music permitted, danced.
They were all part of the 2017 Plattsburgh Bridal and Fashion Expo, a benefit event hosted by Laura's Bridal and College Formals at West Side Ballroom in Plattsburgh.
The annual event fashion show and vendor expo is in its 18th year and donates all proceeds to the Make-A-Wish Foundation of Northeast New York.
Organizers estimated that around 400 soon-to-be spouses turned out for the clothing, catering and wedding-services showcase.
'MIND-BLOWING'
"I love it. Absolutely love it," said Kelcie Devins, an attendee who is getting married on Aug. 19, as the crowd watched the models showcase outfits from Laura's. "It's pretty much mind-blowing."
Devins was there with her sister-in-law, Ashley DuBrey, who is set to wed Aaron Mullen one week before Devins will walk down the aisle.
Devins's fiancé, Joshua Recor, was working the event.
Both women had come for the first time to scope out gowns.
"I can honestly say the dresses I've seen here are probably going to be the dresses in my wedding," Devins said.
For her and DuBrey, the minutia of planning and the costs have been the biggest challenges in organizing their weddings.
The event, though, made some of that easier.
PINNING DOWN A DATE
Wedding planning hasn't been too cumbersome for Melissa Fountain and Dale Matott, who are slated to marry on June 17.
Fountain's twin was a wedding planner for years and has given them a hand.
"It's a lot of pressure if you're doing it alone, but if you have friends and family to help you, it becomes a lot easier," she said.
The date is the real kicker. Their ceremony had originally been scheduled for the fall, but because Fountain's father has cancer, they moved it up. And they'll do it again if his condition worsens.
"I just want my dad to be a part of it," said Fountain, who works at a Stewart's Shop. "He has to be there."
She and Matott, both embarking on marriage a second time around, started dating after she attended his surprise 60th birthday party a few years ago.
With a grin, Matott leaned forward and confided: "I thought she was my birthday present."
'BEAUTIFUL'
"I think it's sweet," Fountain said of the expo. "I think that the people look beautiful."
She found the vendors helpful and especially liked that they weren't too pushy with their products.
She and Matott plan to wed at St. Peter's Church in Plattsburgh.
It'll be a little nontraditional — she'll be wearing a red dress.
The event also gave them a chance to look into holding their wedding reception at West Side Ballroom.
"It doesn't have to be the perfect wedding," Fountain said. "It just has to be a fun wedding. That's all."
'REALLY GOOD CAUSE'
The fashion-show models and their onlookers appeared to be having plenty of fun.
Each presentation of outfits — for brides, grooms and wedding parties — was narrated by the quippy Laura Gartshore, namesake of Laura's Bridal.
"No one's going to remember that you matched the napkins," she said soon after the show began. "They're going to remember your dress."
The children modeling flower-girl and ring-bearer garb were met with a chorus of "aw"s, instant favorites.
"The girls, we've been waiting for," Gartshore said as they came down the runway in tiny white dresses.
Their only rival was Angelo Sutton of St. Albans, Vt., whose slick spins and runway rhythm drew cheers, applause and laughter.
"It energizes a 54-year-old man," he said afterward, laughing.
This was his second time modeling at the event; his daughter, Jhai, modeled Sunday as well.
"It benefits a really good cause," he said.
Sutton, who has been married for 32 years to his wife, Lisa, said the expo helps give soon-to-be brides and grooms a broader perspective on the services available to them.
"If you get everything going the right way," he said, "the wedding goes tremendously."
'FIRST-CLASS JOB'
Dr. William Trigg, chief executive officer of the Make-A-Wish Foundation of Northeast New York, was happy with how the fundraiser went this year.
"They do a first-class job," he said.
In particular, he appreciated how Make-A-Wish kids — like "Mighty Matthew" Cech of Plattsburgh, sporting a fedora on Sunday — were incorporated into the runway show.
He said the expo usually brings in over $3,500 for the organization.
"Everyone here is part of this," said Trigg, who himself is engaged to be married.
After it all ended, Gartshore emphasized, too, that the expo is good for Make-A-Wish and the community, not just for the wedding industry.
"It really is a great event for Plattsburgh," she said, adding later, "It's an opportunity for a small business to give back."
LEARN MORE
Make-A-Wish grants wishes of children diagnosed with life-threatening medical conditions.
"For wish kids," according to the Make-A-Wish of Northeast New York website, "just the act of making their wish come true can give them the courage to comply with their medical treatments. Parents might finally feel like they can be optimistic. And still others might realize all they have to offer the world through volunteer work or philanthropy."Read more at:black formal dresses
Comentários a este post
Entra com os teus dados para comentares! Ainda não estás registado no Palco Principal?
Regista-te aqui!
O teu comentário é importante. Deixa aqui a tua opinião!